GARENO LODGE
SEPTEMBER 2018
The Harpy Eagle has nested again this year. The chick was found on the nest on August 2nd, it is now approximately 6 to 8 weeks old. The eagle has chosen the same nest and the viewing is extraordinary.
Here are a couple of recent pictures taken at the nest. The chick is visible on the first photo.
NOVEMBER 15TH 2017
The baby has grown so much in these 4 months. We were able to witness the baby feeding of a sloth.
For HD viewing please click on the link below to view directly to youtube.
www.youtube.com/watch?v=8_x34DYDkDc
July 2017:
We have a Harpy Eagle nest with a chick! Visit us to see this amazing sight.
We are working to conserve the rain forest with our association with the Huaorani community of Gareno. Each time you come here you will leave $20 for the Huaorani families of Gareno which helps their development, and encourages them to conserve the forest so other tourist may come to visit.
You will be very comfortable in our Lodge with private and spacious rustic cabaņas that include a private bathroom with hot water and good quality mattresses. We have space for 24 people in our cabaņas and also a simple dining open-air room. We provide purified drinking water for our guest and our food is of excellent quality. Electricity is now available at our dining room only.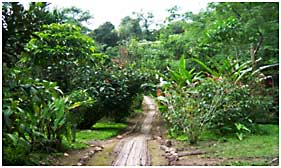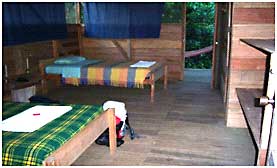 Our specialty is bird watching in this primary forest for some very difficult to find birds. From time-to-time we receive special information from our Huaorani friends of the location of the Harpy Eagle´s nest. Our last nest was spotted in 2004 and lasted for two and half years. We have trails that will take you into the heart of the jungle to spot difficult to find birds such as the Rufous Potoo.
We arrange Wildlife Jungle Tours for watching wild animals in their natural environment that can last up to 10 days of unforgettable experiences as we travel down the Tiputini river.
For those interested in discovering the Huaorani secrets we offer a Cultural Jungle Program that is guided by the Huaoranies themselves in which you will learn about the medicinal plants, hunting, fishing habits, as well as their social celebrations.
Every year a special program is offered for the carnival lovers. Download here the program and inquire for pricing. Carnival Playero Misahualli.
Many thanks to our sponsor the Pululahua Hostal for helping us build and manage this web site so we can reach more people interested in saving the forest through our eco-tourism program.
Check out these great partners for affordable birding programs that support the Ecuadorian people and businesses through the Bird Watching for Conservation Association.
Laguna Paikawe - A tiniy Amazonian lake with big birds that are loved by Pedro.
Mashpi-Amagusa Reserve.- The site with the highest Choco Endemic birds in Ecuador: Indigo Flowerpiercer, Moss-backed Tanager, Rose-faced Parrot, and many more.
23 de Junio.- Stay at 23 de Junio for fantastic views of the Long-wattled Umbrellabird and help conservation.
Pacto Sumaco.- Best birding option to visit the Sumaco Biosphere National Park and help the local community of Pacto Sumaco.
Isla Corazon - Community owned birdwatching and mangrove tours. A fantastic place to see mangrove and estuary birds and also help the community of Puerto Portovelo.
Pululahua Hostal - Ecuador Birding Tours that conserve the forest and money.
Refugio Paz de las Aves - A successful birds for conservation project and get close to the anpittas with Angel.
Gareno Lodge - Visit the Rufous Potoo up close and help the conservation of the Huaorani forest.
Cueva de los Tayos.- See and photograph the Oilbirds close to Mindo